Raise your glasses, beer aficionados!
Today we're diving deep into a story that's frothy with success, packed with flavor, and overflowing with pride – the meteoric rise of Mudhen Brewing Company. With humble beginnings in New Jersey, this brewpub recently grabbed the coveted spot in USA Today's Top 3 Brewpubs of 2023. Here's how this local favorite became a national treasure.
Best brewpub in New Jersey
There's a saying in Jersey: "Go big or go home." Mudhen Brewing didn't just go big – they went gigantic! The title of the best brewpub in New Jersey didn't land in their lap. It's the fruit of tireless efforts, innovative brews, and an atmosphere you'd be hard-pressed to find elsewhere.
Birth of Mudhen Brewing Co. in Wildwood, NJ
Nestled in the heart of Wildwood, a charming town known for its natural beauty, Mudhen Brewing sprouted its wings. Inspired by the enchanting allure of craft beers and driven by a deep-rooted passion, the visionaries behind Mudhen Brewing embarked on a quest to create an unparalleled brewpub experience that transcends the ordinary. With eager anticipation, they swung open their doors, inviting the public to partake in a delightful journey of flavor and camaraderie.
The Origin of the MudHen Name
Mudhen's name pays homage to the historic train that once chugged along Wildwood's coast, whisking passengers away on nostalgic voyages through time. The charming ambiance and vintage aesthetic invoke a sense of yesteryear, transporting visitors to an era intertwined with treasured memories. Can you feel the old-timey vibes?
Over the years, Mudhen Brewing Company has earned numerous prestigious awards, establishing its reputation as a top-notch brewery that consistently delivers exceptional brews. From winning accolades that are too many to count to garnering recognition from popular platforms, their dedication to crafting outstanding beverages has been acknowledged and celebrated. And now, the cherry on top of their accomplishments is the recent well-deserved recognition they received from none other than USA Today, further solidifying their position as a leader in the industry.
Founded in 2018 by Brendan Sciarra, MudHen Brewing Company is dedicated to crafting exceptional quality beers while prioritizing meticulous attention to food and bar service. Immerse yourself in a truly unparalleled experience at our brewpub, where you will feel a sense of genuine belonging, whether you are a local islander or simply passing through. You can read the whole history of MudHen Brewpub on our about us page.
Tony, a local guy and graduate of Lower Cape May Regional High School, holds a Bachelor of Science degree in Hospitality Management from the University of Central Florida. Throughout his career in restaurant management, he has had the opportunity to work in vibrant cities like Las Vegas, Orlando, and Baltimore.
In 2010, Tony's passion for craft beer ignited when his childhood buddy invited him to join in on a home brewing experiment. What started as a 5-gallon stove-top project soon evolved into a bi-weekly backyard event, brewing 15 gallons at a time. This sparked an obsession for Tony as he explored the diverse and delightful world of craft beer styles.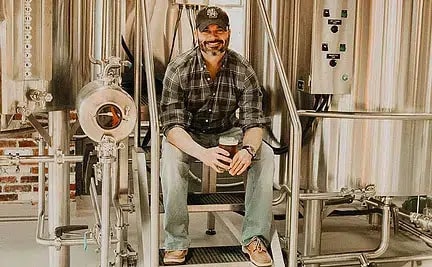 More than Just a Great Craft Beer
Their kitchen? Oh boy, let me tell you, it's a magical place where their brewpub menu makes culinary wonders come to life. From the tantalizing aromas that waft through the air to the meticulous artistry displayed in every dish, this is where gastronomic dreams are brought to fruition. Whether it's the perfect pairing with their signature brews or a standalone culinary masterpiece, you can expect nothing short of pure culinary delight that will leave your taste buds dancing with joy.
FAQs About The Best Brewpub in New Jersey
From the heart-pounding beats of exhilarating live music performances to the delightful indulgence of meticulously crafted beers in tasting extravaganzas, one can bask in the sheer joy that leaves no room for boredom.

What's Next For MudHen Brewing?
With the prestigious USA Today accolade firmly secured, Mudhen Brewing Company finds itself at the brink of endless possibilities. What lies ahead for this esteemed brewery? Will they delve into exciting expansion plans, unveiling new brews that will tantalize our taste buds? Only time will reveal the exciting chapters yet to be written.
Born from its humble beginnings in New Jersey, Mudhen Brewing Company's remarkable journey has been a captivating tale etched in history. Earning the remarkable title of the best brewpub in New Jersey was just the beginning, as the recent top 3 spot in USA Today speaks volumes about their unparalleled craftsmanship and dedication. Mudhen isn't merely crafting beers; they are crafting legends that will stand the test of time.
Let us raise our glasses in celebration, toasting Mudhen Brewing Company for their extraordinary achievements. May many more accolades align their path, and may their astonishing brews continue to mesmerize and delight. Here's to an exciting future filled with boundless accomplishments. Cheers!