It's been a really rough year, especially for those of us in the service industry. We're certainly all grateful our loyal patrons have been supporting us as much as they can during these uncertain times. In fact, we're so grateful that we've decided to join up with other local breweries to make a special porter in order to give back to our community.
This year, MudHen Brewing Co is reaching out to lend a helping hand along with all other Cape May County breweries. We've collaborated on a delicious chocolate porter that will make its debut Nov 7th 2020 at… you guessed it! MudHen Brewing Co. The beer in question is a group recipe, made with a variety of chocolate malts and real chocolate fudge, which was supplied by Wildwood's very own Laura's Fudge. It's a limited run, so make sure you're here to enjoy The Beer That Built The House while it's on tap. All proceeds go to CMC's Habitat for Humanity to build a single-family home right here in Cape May County's Upper Township.
It's a one-of-a-kind beer to fund a community project and Tony and I couldn't be more excited for you to join us in raising a glass for a good cause.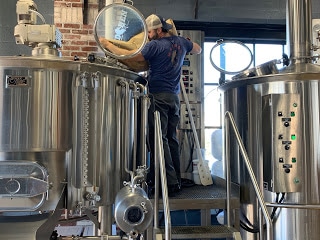 Tony at the lauter-tun at the beginning of our brew day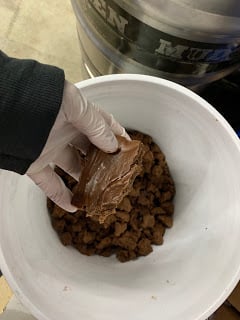 My job was to break the fudge into meltable chunks, which Tony and I then added to the boil
It was such a fun brew day doing something neither one of us had done before. And I haven't stopped dreaming about the fudge from Laura's Fudge on E Wildwood Ave.
If you're salivating just thinking of enjoying this beer with a delicious meal, join us November 11th with your favorite Veteran. We're offering 10% off to anyone who's served this country. Hope to see you real soon!
Cheers.