So, we're well into Fall and at MudHen Brewing Company, we've already released both our Oktoberfest (a traditional Märzen beer that I look forward to every year simply because it's SO GOOD) and our Nummy Pumpkin – which is going FAST.
Well, with those two huge releases out of the way, what news could I possibly have?
Are you ready? Are you really ready? Because after weeks of discussion and weighing our options, Tony's decided to continue Fruitie Patootie into the winter time! Last year was our first release of the fruited blonde ale, which rotated four flavors last summer. We brought it back due to popular demand again this year and tossed in a couple new flavors. Did you have the Passion Fruit? Or maybe the Mango Pink Guava? We've just re-tapped Blueberry before going into rotation of comfy favorites like Strawberry, Passion Fruit, and Raspberry (maybe not necessarily in that order).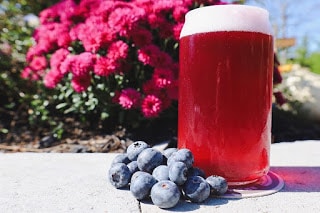 Our Blueberry Fruitie Patootie, photo courtesy of Mary Pat.
And so what does Fruitie Patootie mean to me? It means learning how to cycle a serving tank that is half the size of the others (check). It means sometimes doing a double rack in one day and moving back and forth between two tanks with two separate cleaning needs (check and check). It means remembering what's under pressure and what's not, when to pull samples and release schmapp (that's a fancy word for the leftover yeasty yuck that flocculates [settles] out after fermentation; also, check). It's a messy job, but I love to do it!
It ALSO means that, when I'm behind the bar, I get to hear folks from all walks of life order the funniest-named beer Tony's come up with (yet). It's a silly name for a gorgeous beer that packs a delightfully fruity punch – and I'd know, I'm usually the one who dumps the puree into the beer once we've transferred it from fermentation to service. That also may or may not be part of the reason why my brew-side nickname is "Spills." A well-earned moniker, if I've ever had one.
We're excited to share our first year of carrying through Fruitie Patootie and we hope you come to the pub and have one. Or two.