Winter is nigh – despite the 70F November days and how beautiful it's been down here on the Shore.
Regardless of the temperatures, we're re-releasing our wintertime favorite, a Belgian strong ale, Hero Boy. Set to be on tap at the end of this week, it's a delightfully drinkable, cherry-and-spice-spiked 8.2% ale. Perfect for those nights around a fire or just in good, comfy company. Come on in and grab a growler or crowler (or two – you know, to share!) or have one with a platter of barbeque or your favorite burger. Hero Boy honestly pairs well with anything you might be craving this holiday season.
It even pairs well with our community involvement, this time joining up with Wildwood's own Step Back Foundation.
From founder Maddie McCracken: "When I graduated from my senior year of high school (2019), I started this nonprofit organization called The Step Back Foundation in order to support local athletes who struggle financially. As you may know, the average income in Wildwood is less than $30,000 a year, which is very hard for a family to live off of. Many times kids miss out on opportunities to participate in sports because they simply cannot afford it. The Step Back Foundation provides athletic equipment (such as cleats, socks, gloves, basketballs, etc) to these student-athletes who may not have the means to purchase them on their own. Due to COVID and other reasons, we have also started to provide other necessities such as clothes, gift cards, etc (anything within means) to all of our local communities within Cape May County.
The purpose of our organization is to help kids who are missing out on athletic opportunities to now be able to join something bigger than themselves by providing a little financial support. Unfortunately, when a student cannot afford athletic equipment, such as basketball shoes, he or she will just opt out of playing and work instead. With this foundation and the loyal support of our local businesses, we are able to provide these things. This allows our students to experience all of the attributes of being a student-athlete: from playing sports to building confidence, friendships, and memories. This is a continuing program, which we would like to grow and expand upon, so we can help as many athletes in the local communities as possible!"
Join us this weekend as we team up (hehe, get it?) with the Step Back Foundation to raise money for local kids and sporting programs right here in Cape May County. We all could use a Hero (Boy).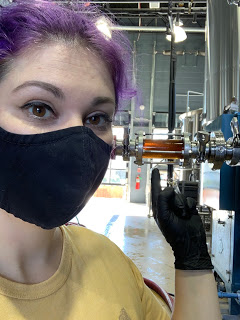 Racking this year's Hero Boy into its serving vessel! On my birthday!
And have you gotten your Habitat for Humanity raffle ticket, yet?? If not, come by the main bar any day of the week – they're $5/ticket, no limit on purchase amount, and every penny goes to help build a house in Upper Township.
Cheers!