If you're on the hunt for the ultimate brewpub experience this year, look no further! MudHen Brewing Co has been nominated for USA Today 10BEST READERS' CHOICE 2023 FOR BEST BREWPUB. 
In the bustling heart of Wildwood, NJ, lies this gem that's swiftly earning a reputation as the best brewpub in 2023.
The Best Brewpub in 2023
One of the key aspects that sets MudHen Brewing Co apart is their unwavering commitment to creativity, culture, community, and, of course, the incredible range of craft beers they offer. With a team of passionate brewers who pour their heart and soul into every batch, they have proudly perfected the art of brewing. From crisp and refreshing lagers to robust and aromatic ales, their diverse selection of meticulously crafted brews caters to the palates of beer enthusiasts from all walks of life. Whether you're a casual beer drinker or a connoisseur seeking new and exciting flavors, MudHen Brewing Co is sure to delight your taste buds with their exceptional brews. It's no wonder they have earned the well-deserved reputation of being the best brewpub in 2023.
A Community-Centric Brewpub
MudHen Brewing Co is more than just a place to grab a pint. It's a gathering spot, a community hub, and a place where memories are made. This brewpub has live music, weekly specials, and fun events that'll keep you coming back for more!
A Feast for the Palate: Craft Beers on Tap
When it comes to a satisfying brewpub experience, MudHen Brewing Co truly stands out. Nestled in its cozy ambiance, this establishment boasts an impressive and ever-evolving selection of craft beers on tap. From hoppy IPAs to rich stouts and everything in between, beer enthusiasts are guaranteed to find their taste buds tantalized with each sip. Whether you're a seasoned connoisseur or a curious beer adventurist, MudHen Brewing Co promises an unforgettable journey through the world of craft beer excellence. Cheers to good times and great brews!
The Flagship: 1883 IPA
Their flagship IPA, 1883 IPA, is a balanced blend of floral, citrus, and pine notes, rounded off with a dry finish.
The Crowd Pleaser: Holly Beach Wheat
HOLLY BEACH WHEAT is a Belgian-style Witbier, packing a punch with vibrant citrus peel and ginger notes.
The Dark Horse: Captain Doug's Porter
For those who prefer a dark ale, CAPTAIN DOUG'S PORTER comes with roast undertones and a distinctive chocolate character.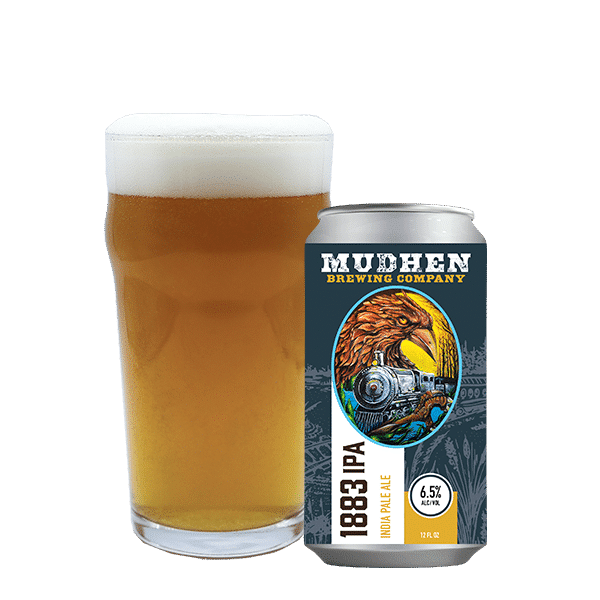 And that's just the tip of the iceberg! At MudHen Brewing Co, we pride ourselves in offering a vast range of handcrafted beers, meticulously brewed to perfection, to cater to every discerning palate.
From refreshing IPAs bursting with citrusy hops to smooth and rich stouts with hints of chocolate and coffee, our diverse selection ensures that there's something for everyone to indulge in and enjoy. Come and immerse yourself in a world of flavors, as we invite you to experience the true essence of craft beer at MudHen Brewing Co.
Take the Party Home: Cans to Go
Love their beers so much that you want to take some home? No problem! MudHen Brewing Co provides cans to go, including additional varieties like the refreshing Summer Gods, and the robust Kitty Cats & Fireworks.
On the Horizon: What's Brewing?
MudHen Brewing Co, nestled in the heart of downtown, keeps things fresh and exciting for beer enthusiasts. With a team of skilled brewers, their state-of-the-art facility is always abuzz with new creations. From IPAs to stouts, the beers are meticulously crafted and aged to perfection right in the back of the brewpub. With a constantly rotating tap list, offering a wide variety of flavors, there's always something new and enticing to try. Come and experience the finest brews of 2023 at MudHen Brewing Co, the ultimate destination for beer aficionados.
The Next Big Step: A Foray into Hospitality
Adding another feather to their cap, MudHen Brewing Co is expanding their horizons into hospitality with the opening of The Hen Houses Hotel & Resort in Wildwood. This new venture encapsulates their community-centric ethos, offering a warm and inviting space where patrons can extend their brewpub experience. It's not just about fantastic beers and great food anymore; it's about creating a comprehensive experience that resonates with the very essence of Wildwood. With the opening of The Hen Houses Hotel & Resort, MudHen Brewing Co is setting new standards in the brewpub scene, making their mark as not just the best brewpub in 2023, but a holistic hospitality phenomenon.
Vote For MudHen Brewing Co. for Best Brewpub in 2023
Whether you're a craft beer aficionado, a foodie, or someone looking for a vibrant atmosphere, MudHen Brewing Co has it all. The combination of high-quality brews, an inviting atmosphere, and a commitment to community makes it a clear contender for the title of the best brewpub in 2023. So why wait? Head over to MudHen Brewing Co and experience it for yourself. After all, the proof of the brew is in the drinking!
Remember, always enjoy responsibly and keep supporting local businesses. Cheers to the best brewpub in 2023 nominee – MudHen Brewing Co!
FAQ's About MudHen Brewing Co.