Just because the busy season has come to a close here in beautiful South Jersey, it doesn't mean the brewery slows down very much. In fact, on the day I write this entry, Tony and I basically did everything in the brewery aside from actually brew (that's on tomorrow's agenda).
MudHen even bought our own canning line in September and had the inaugural run the same month, right after our Oktoberfest beer release and celebration.
To learn the ropes, we had Jose from Wild Goose come out to show us how everything operates. It was a lot to learn, but the machine is amazing and we had a ton of fun finally getting our 1883 IPA out the door from our very own line. Helping hands came in left and right to assist with ensuring our labeler worked properly and each four-pack was lovingly packed into cases by employees right here at MudHen.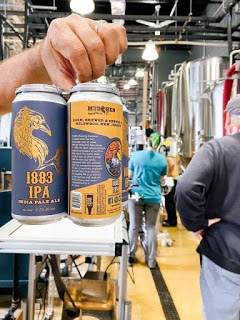 Photo credit to Mary Pat (that's me weighing cans in the background!)
So, with our little golden goose, what's next? We have a Bakers' Double IPA canning run the last week of October. It'll just be us here at MudHen running the line – no help from Jose! And it's a bit thrilling to think about. We know what each 16oz can should weigh, we know what the machine should and should not be doing, and so all that's left is for us to just do the thing!
The Bakers' Double IPA is still my favorite brand from MudHen Brewing Company and you can bet I'm excited to get this back in cans and out on shelves for the masses to enjoy. The only downside? Bakers' Double IPA on nitro is even MORE delicious and only available in the pub! I guess you'll just have to swing by and have a glass. And don't forget to say hello to me or Tony if you see us.
Cheers!