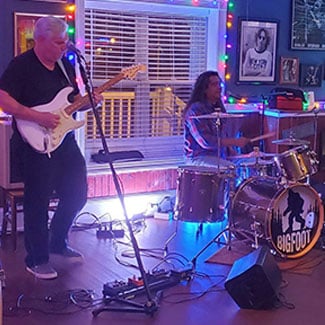 Don & The Sarkastics is a local high energy blues rock band with a bit of funk mixed in. Guitarist, vocalist Donald Lee Shough, a Wildwood native plays a Jeff Beck inspired style with a bluesy feel. He has toured with country artist Doug Stone out of Nashville. Don is a former member of the late great Frank Bey's band & has played with countless musicians from both coast's including Jack Pierson whose played with The Allman Brothers. Also, Don has done shows with Neil Young's daughter Astrid.
Drummer & Vocalist Blue Eagle was mentored by Tommy Campbell, who toured with Dizzy Gillespie & John McLaughlin. He has also played with Philly bassist Steve Green. As a young vocalist he has also done 2 world tours with The Philadelphia Boys choir & has appeared on Jimmy Kimmel & Conan with Donny & Marie Osmond.
Local Sarkis Damirjian, A.K.A."Sark on the Harp" was a harmonica player for the late "Southern Gentleman of the Blues & Grammy nominated singer Frank Bey as well as sharing stages with many local & national acts.
Local bass player Walt Sapsai Jr. mentored by Mike Maiorano, has played with James Bradley Jr. from Chuck Mangione's band & with the "Turnstyles" opened for "The Whailers" & " Live".
Add event reminder to your calendar!