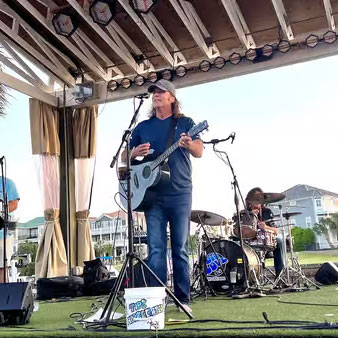 Our band consists of some truly amazing musicians.  Bass player Kenny Polcak, quite an accomplished musician, has been playing for many many moons and his harmonies are always magic.  Drummer, Ed Dilley, hits hard and never falters.  Besides impeccable timing he truly enjoys what he does and can be seen throughout the show grinning ear to ear.  Steel pan player, Steve Tove, adds vibrant melodies that makes you yearn for sandy beaches, warmer weather and the smell of salt water.  Keith Esposito, our multi talented saxophone and EWI player (just a few of the many instruments he plays) adds dulcet tones that tie together our music with a beautiful copper bow.
Our band plays anything from Buffett to Mellencamp to Zac Brown.  This does of course include our own originals.  My originals are written with the intent of sharing a piece of ourselves with the audience.  Each member of the band takes the original song and adds their musical perspective.  The guys and myself love what we do and what we create musically as a band.
Add event reminder to your calendar!